Volunteering
As an independent, community-run museum, Maritime Museum Tasmania offers a range of fun and rewarding volunteer roles that help us preserve and interpret Tasmania's maritime heritage.
Volunteers are central to the work of the Museum, and we have a team of over 100 indispensable people involved in activities ranging from greeting visitors to caring for our collection to maintaining heritage vessels. 
If you've ever felt the allure of Tasmania's maritime past, or simply wish to be a part of an organisation that values history and community, then we wholeheartedly invite you to embark on this rewarding journey with us. Whether you're a seasoned mariner or just starting to dip your toes into the waters of local history, there's a place for you here at Maritime Museum Tasmania.
Volunteering with us also offers a unique opportunity for those seeking work experience, providing a valuable stepping stone towards a career in tourism or hospitality. Gain hands-on experience, build your network, and make new friends as you become an integral part of our Museum family.
You don't have to be an expert in all things nautical - all you need is an interest in local history and plenty of enthusiasm.
To become a volunteer at Maritime Museum Tasmania, you must:
be 18 years of age, or older

undergo a National Police Check

be able to volunteer on a regular, ongoing basis
For more information, and to take the first step towards joining our volunteer crew, please don't hesitate to contact us.
---
Why we volunteer...
Pip Scholten, Maritime Museum shop manager
With her boundless enthusiasm and dedication, Pip Scholten has carved her niche as the volunteer manager of Maritime Museum Tasmania's gift shop, blending her love for history with a flair for retail. 
Image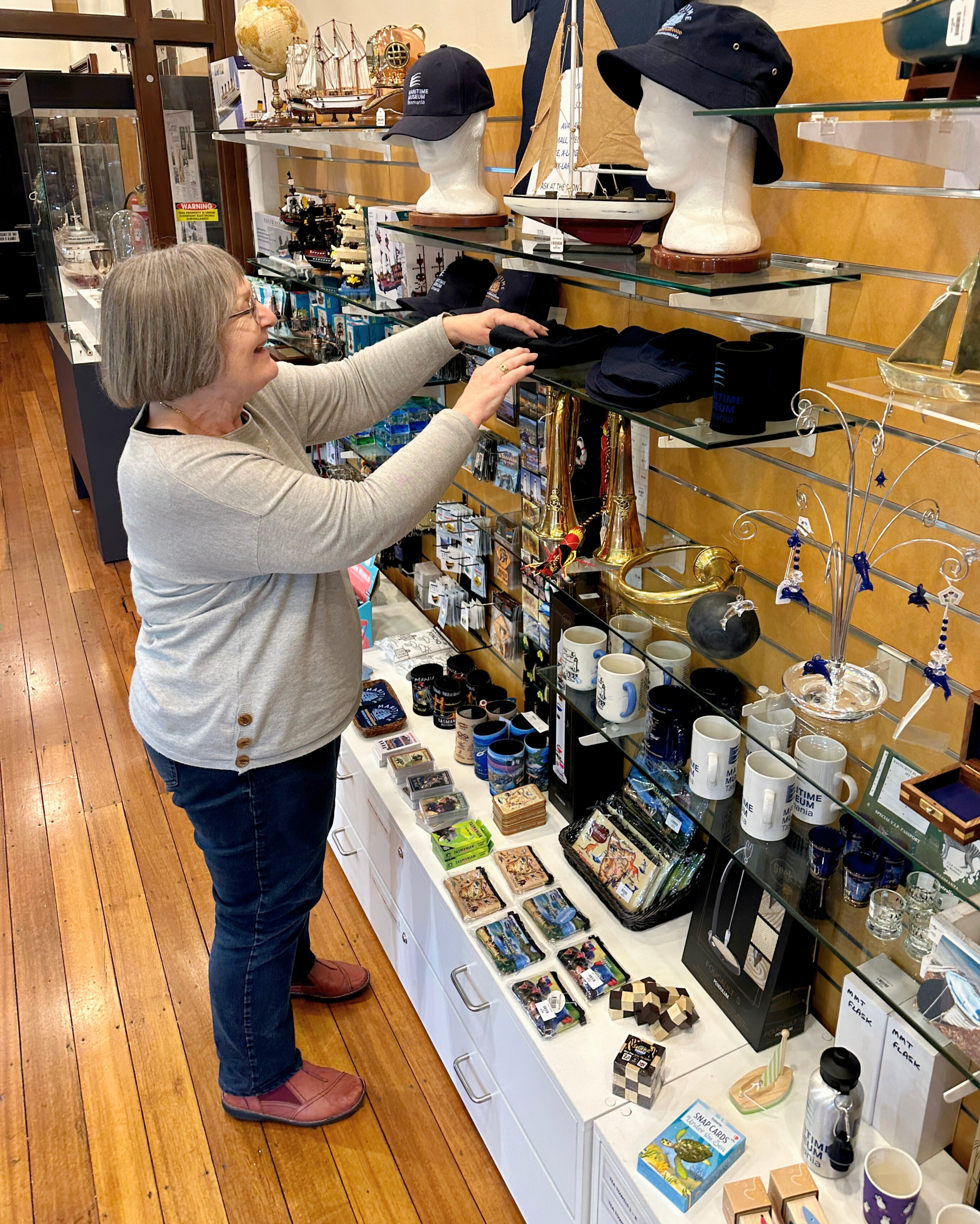 For Pip, the call of maritime volunteering came unexpectedly, thanks to her husband Alan's early involvement with the Museum. "My only link was to come to openings and social events." It was during one of these occasions in 2016 that Pip found herself assisting the shop's manager, and from there she never looked back. Pip's role has evolved over the years, and now she spends her time curating souvenirs and maritime-related treasures for the shop, and keeping on top of all the administration that comes with running a busy retail store -- a valuable source of income for our not-for-profit organisation.
"A lot of time is spent looking online for new items to stock, which can be enjoyable, but sometimes very frustrating!" While Pip confesses to being a landlubber, she says she enjoys exploring history through the museum's artefacts and stories, all from the comfort of dry land.
Pip says about volunteering: "It's a great way to meet a whole range of people, all with a common interest but from varying backgrounds." For Pip, volunteering is not just a task; it's a way of serving the community. "Do it. In my case, I feel that the various volunteering roles I undertake, here at the Maritime Museum and elsewhere, are part of my "giving back"."
---
Alan Leitch, Maritime Museum front desk support
With a rich background in tourism spanning over four decades, Alan first stepped into his role at Maritime Museum Tasmania back in 2019, fast becoming an integral part of our volunteer community. 
Image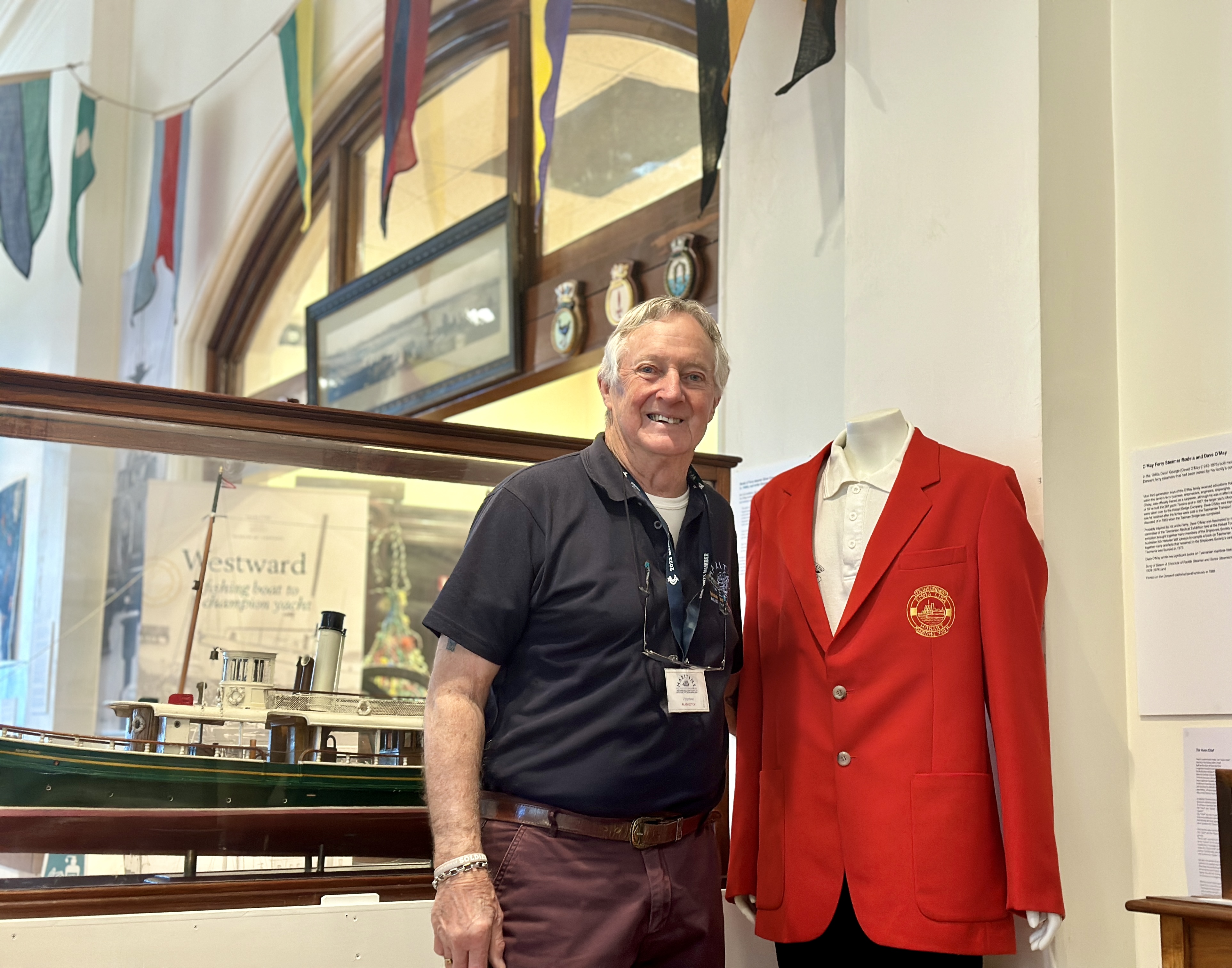 "A friend of my sister's who's a volunteer at the Museum mentioned that they were looking for new volunteers," says Alan. Having just retired after 43 years in Tasmanian tourism, Alan was eager to channel his passion into something meaningful. "I was always going to look for something in the tourism area after retirement. Volunteering seemed like the perfect fit."
Alan can usually be found at the front desk on alternate Mondays and Sundays, greeting visitors with a smile. His involvement as a community volunteer doesn't end there; he also contributes his expertise as a Justice of the Peace at various Document Signing Centres and helps out at the New Norfolk Golf Club. "The chance to interact with locals, visitors, and fellow volunteers is what makes every moment worthwhile," he says.
While Alan's maritime knowledge might be limited to fishing trips and family stories of naval service, his love of Tasmania's maritime past, especially the intriguing tale of the Blythe Star, led him to Maritime Museum Tasmania.
For anyone contemplating a volunteering role at the Museum, Alan's advice is simple: "You don't need to be a maritime expert. The knowledge comes with the experience." He emphasizes the joy of meeting people, both locals and visitors, and the invaluable opportunity to collaborate with those from diverse backgrounds. "It's about the people and the stories they bring."
Among the Museum's treasures, Alan's favorite display is scale model and photographic depictions of the Tasman Bridge after SS Lake Illawarra struck it in 1975 - particularly the intriguing story of the Holden Monaro suspended over the bridge's edge. "It encapsulates so much history, so many layers. It's a reminder of the resilience of our local community."
---
Paul Armstrong, Maritime Museum committee treasurer
It was a small ad for volunteers in The Mercury that first attracted the attention of Paul Armstrong after he retired from the workforce over 12 years ago. His love of the sea and interest in maritime history led to him becoming one of many volunteers who keep our Museum running.
"As a youngster I used to roam the Hobart wharves, fascinated with the ships in port. As a teenager I spent time as a sea cadet before joining the Royal Australian Navy, where I trained as an electronics technician and also qualified as a ships diver. After leaving the Navy I joined Tasmania Police and was a member of the Hobart-based water police and a police search and rescue diver, before taking a posting to Flinders Island where I operated the police search and rescue boat Protector II for nearly five years." When Paul returned to Hobart, he I took up duties as the 2IC of the water police, and skippered the Roche Brothers ferry Bundeena at Port Arthur in his spare time.
He began his volunteer work at Maritime Museum Tasmania as a digitiser, making copies of precious documents and artwork for our digital collection, work he continues to this day. "It gives me a never-ending visual insight into our maritime history. We've scanned hundreds of photos, glass slides, letters, postcards, film strips, 35mm slides and newspaper articles into our online collection for public viewing."
Paul soon moved into conducting research in the Museum's archives, investigating and answering enquiries that come in from people here in Tasmania and interstate. Paul also spends several days a week serving as the Museum committee's Treasurer, a position he's held for the past year.
"The best part of my day is sitting down and having a cuppa with other volunteers, joining in with their banter and exchanging experiences and stories. Volunteering is an opportunity to meet and work alongside some great like-minded people from a wide range of backgrounds in a flexible and enjoyable environment."  
---